BEST THINGS TO DO SINGAPORE
Some of the best things to do in Singapore involve cooling off in water be it relaxing poolside at your favourite luxury resort hotel in Singapore or the beach at Sentosa on the west side of Singapore Island or some sort of watersports in Singapore.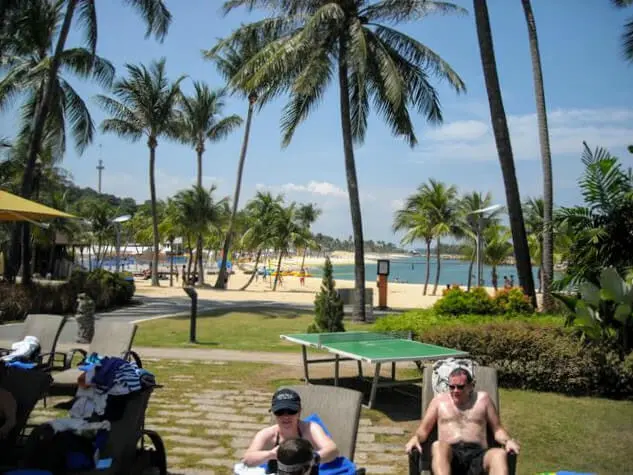 Sentosa Beach, west Singapore Island.
With a nice warm climate all year round there are plenty of things to do in Singapore.
You'll find everything you want in Singapore from the latest electronics to clothes in shopping areas centres such as Paragon and Takashimaya on Orchard Road, Little India or Vivo City which is the biggest shopping mall in the southern hemisphere.
Clarke Quay is a must-see on any trip to especially at night for its variety of Singaporean restaurants and bars overlooking the river. You'll walk through 21st-century water fountains children love to play in before being dazzled by the choice of quality restaurants.
The famous Raffles Hotel is also worth seeing and many people stop for High Tea at the Tiffin Room as a reminder of colonial days gone by.  Our World's Best Holidays tip is to go to the nearby Goodwood Hotel instead for the freshest sandwiches and cakes we've tasted since the Hyde Park in London and The Oriental in Bangkok.  The Goodwood colonial hotel is frequented by ex-pats and the racing fraternity.
Singapore's best high tea at the Goodwood Hotel
Travel to Singapore would be incomplete without a trip by monorail or cable car to Sentosa Island near Singapore's CBD.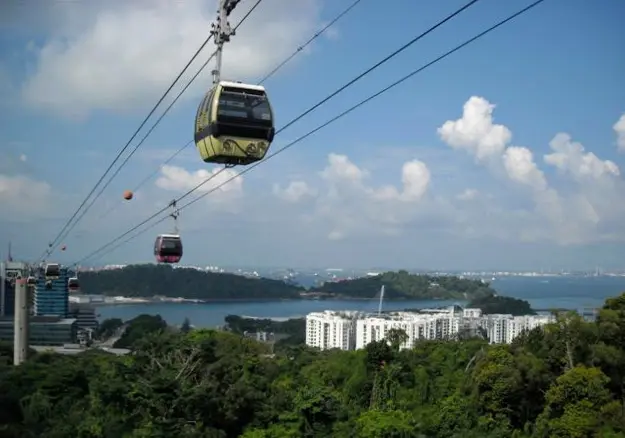 Sentosa Cable Car
Sentosa Island has resorts and restaurants and is undergoing rapid development including a huge children's amusement park.
Go to the top of Sentosa's Skytower for a bird's eye view over Singapore.  Singapore's white sandy beaches on Sentosa are one of Singapore's secrets and clean for swimming, despite the huge shipping lane in nearby Singapore harbour.
The other holiday island near Singapore is white sand Nikoi Island via Batam Island. These holiday islands are popular with Singaporeans and tourists because of their natural environment beauty including the closest white coral sand beaches so near Singapore but actually in Indonesia.
For something different, head over to the Esplanade on the Bay.  It's a strange-looking spiky building that's a performing arts centre with many surrounding restaurants. You have to see the quirky restaurant upstairs called My Humble House.  It's like walking into a plush home like something out of the Addams Family with remarkably rich décor.
SHOPPING SINGAPORE
Shopping is still one of the most popular things to do in Singapore. Singapore is still a shopper's paradise including the latest fashion and electronic goods shopping.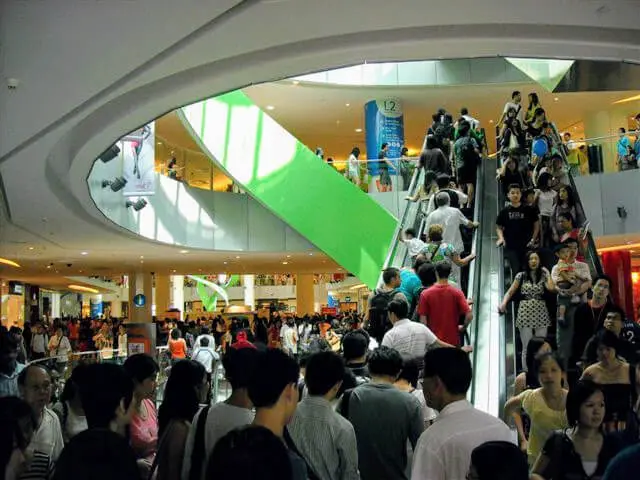 Shopping Singapore
STOP OVER HALF DAY TRIP SINGAPORE
Singapore is a shipping and airline transport transit hub of South East Asia. Many airline passengers should not feel they are stuck at Changi airport even though there are lots of things to do at Changi airport.
International airlines from around the world fly into the famous Changi Airport west of the Singapore CBD.
Singapore is a delight to find inexpensive taxis in a big cosmopolitan city. A taxi trip from the airport to downtown Singapore costs about $10 so if you're in transit at Singapore for more than 4 hours, catch a taxi to the Singapore CBD or Marina Bay or simply ask your taxi driver for a tour of Singapore.
SINGAPORE BOTANIC GARDENS
A visit to the Singapore Botanic Gardens is a must thing to do for nature lovers of beautiful tropical gardens.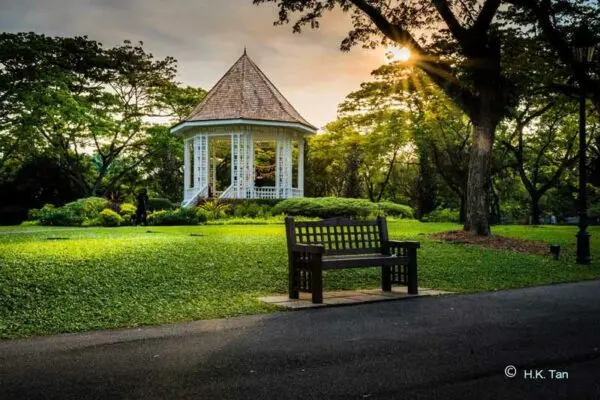 Botanic Gardens Singapore
Enjoy a concert in Singapore's Botanic Gardens.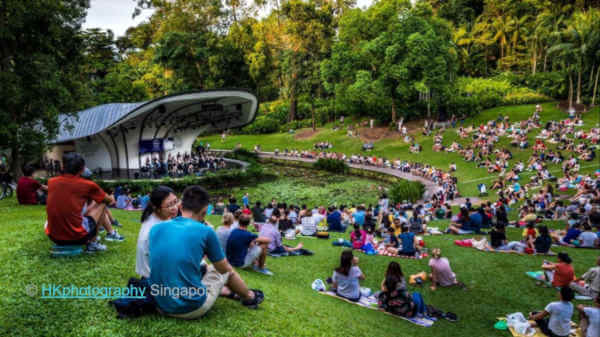 Outdoor concert Singapore
RESTAURANT DINING SINGAPORE
Restaurants in Singapore cook some of the best, luxurious cuisine in Asia. Try the Singaporean restaurant choices near Singapore hotels. Link to more about Singapore restaurants.
Top ten things to do in sightseeing tours of Singapore.
Visit the Singapore Botanic Gardens. (See photo in slide show on the Singapore photos page.)
​Merlion
Marina Bay
China town
Little India
Sentosa Island
​Clark Quay
​Garden Bay
Universal Studios
​Singapore Flyer ferris wheel.​
Photo of Singapore Flyer ferris wheel.
Dining
Eat a variety of cuisine from many nations at some of the best restaurants in Asia. If your looking for something to do in Singapore food is always a good option.
Select from luxurious hotel restaurants to street food in Singapore.​
Explore Singapore
Take a day trip to Johor Bahru in neighbouring Malaysia.
Take a boat trip from Singapore to Nikoi Island near Singapore.​
​ See the Christmas street lights in Singapore.
Visit the gardens of the bay and experience a beautiful nature park that will not disappoint
Sentosa Island
Sentosa island is an island in Singapore which is perfect for tourists looking for things to do in Singapore, Sentosa Island tourist attractions include theme parks, ziplines, rock climbing and views from the Tiger Sky Tower which will not disappoint. Do all the exciting fun activities in Sentosa Island while staying at one of Sentosa Islands Resorts.
SEA Aquarium
See tropical fish closeup at the biggest aquarium in South East Asia.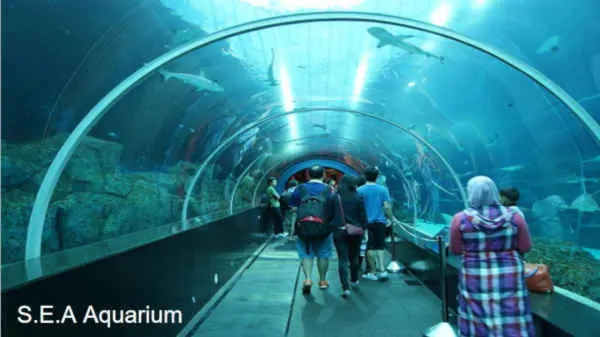 SEA aquarium Singapore
Butterflies
Don't miss seeing, experiencing and photographing the enchanting Singapore Butterfly Garden. One of the best family things to do in Singapore.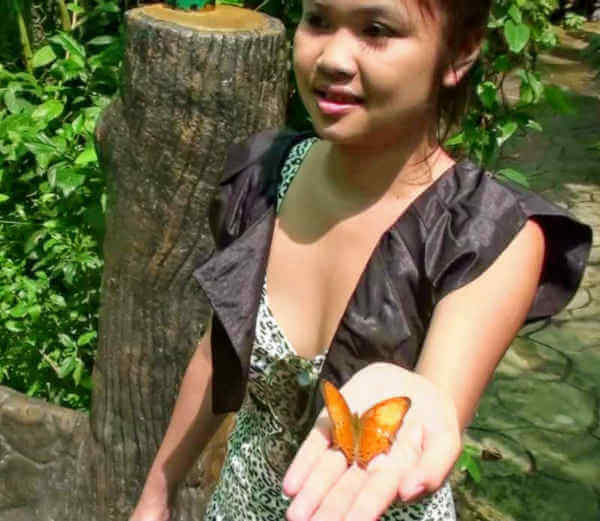 Butterfly garden Singapore
Hotels
Lounge about your hotel swimming pool and enjoy authentic Singaporean food in the comfort of your hotel's own restaurant.
SPORTING EVENTS SINGAPORE
With a nice warm climate and light winds, watersports are popular in Singapore.
Formula 1 car racing at the Singapore Grand Prix is a popular sporting event in Singapore.
Getting married at a luxury hotel in Singapore can be the biggest day of your life. Host your next hotel wedding reception in Singapore.