Hotel restaurants in Singapore offer some of the best, luxurious dining in Asia. Also try the many Singaporean restaurant choices near Singapore hotels, such as in the famous Orchard Road shopping area.  Go to the Paragon shopping centre and find Ding Tai Fung café with great Shanghai dumplings and chicken noodle soup. In the basement, you'll find delicious restaurant food at the Japanese Soba noodle café. Luxury hotel restaurants in Singapore offer a vast range of cuisine, top service and restaurant dining locations. Some waterfront restaurants in Singapore have good views.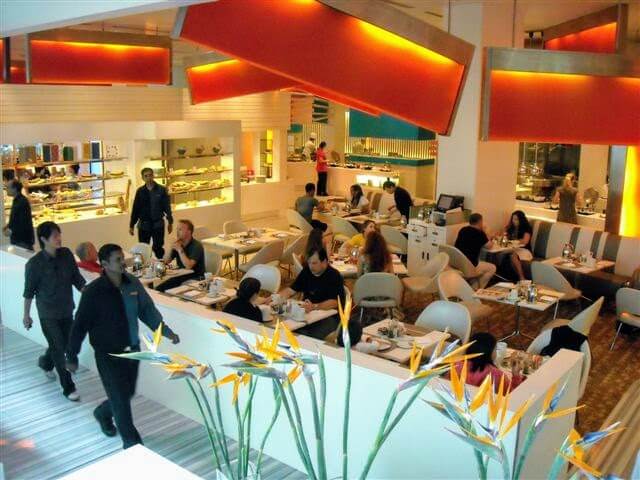 Nearby on Orchard Road is the Takashimaya shopping centre - you'll find well-priced tasty Chinese food at the Crystal Jade Palace restaurant. To try a slice of local life, go to the food court in the basement where Singapore restaurant prices are really cheap, the food is good and you'll be jostling with the locals for a seat. It's worth it.
Some tourist book accommodation in Singapore with all meals included. That's convenient for business travellers' accommodation but you're missing out on Singapore street food and small cafe/restaurant food if you lock into hotel restaurants. A compromise might be to have hotel breakfast including with your Singapore hotel booking.
My favourite Singapore restaurant guide is HK Tan. He takes me to all sorts of interesting, cheap restaurants in Singapore. Cheap on price, big on surprise and flavour of traditional and interesting Asian cuisine.
Tan lives in Singapore and owns/manages Singaporean restaurants in Manilla.
SINGAPORE RESTAURANT REVIEW
At Vivo City, go to Food Republic at the top to eat - a huge government-controlled hawker centre where it's fun to select different dishes from different stalls. Some of Singapore's famous dishes include Nasi Padang (rice with chicken curry), Char Kway Tow (yummy fried noodles with soya sauce) and Mee Goreng(Malaysian noodles). While you're  at Vivo City check out the Pacific Coffee Co. for a great view over Sentosa Island.
Clarke Quay is worth visiting at least once for its variety of restaurants by the river.  Indochine is the best restaurant here. Walk through a fascinating bar then out onto the boardwalk for alfresco dining.  Forbidden City also has a stylish interior - you can recline on the daybeds and be soothed by the waterfalls and statues.  And for a laugh, check out The Clinic bar, which is themed as a hospital complete with wheelchairs to sit in and a drip hanging from a hospital bed to drink your cocktail from.
For nice restaurants at night, go to Rochester Park and book Da Paolo for Italian or Number 1 with its outdoor courtyards.
And on Dempsey Road there are two good places to go - The PS Café with delicious food and lovely outlook into the lush palm jungle, and OOsh at 22 Dempsey Road for meals, drinks or coffee.
For a lovely authentic Singaporean meal in a stylish restaurant where the waiters hardly speak English, go to the Majestic Restaurant in Bukit Pasah Road.   It's creative Chinese food in a restored Chinese boutique hotel, and
if you look up while dining you may even see people swimming in the sea through portholes in the ceiling.
Singapore restaurants are great value for money. There's plenty to see and the food is delicious.  Most importantly, the 5-star hotels here are among the world's best for luxury and value.  Go to Singapore and enjoy one of the World's Best Holidays.