Travellers love Singapore because it's safe, and clean, has luxury hotel accommodations and is a shopper's paradise. Singapore's climate is warm all year round because of its proximity to the Equator. International airlines from around the world fly into the famous Changi Airport east of the Singapore CBD.
Singapore is a delight to find inexpensive taxis in a big cosmopolitan city. A taxi trip from the airport to downtown Singapore costs about $10. Singapore is the epicentre of Asian food.  You're guaranteed to enjoy the taste and variety of cuisine in Singapore.
COVID FREE SINGAPORE TRAVEL
With good sanitation and hygiene standards, Singapore has remained relatively Covid-19 virus-free for a long time. The March 2022 Covid spike was in sharp decline.
Latest Covid travel news/information in 2022 for all countries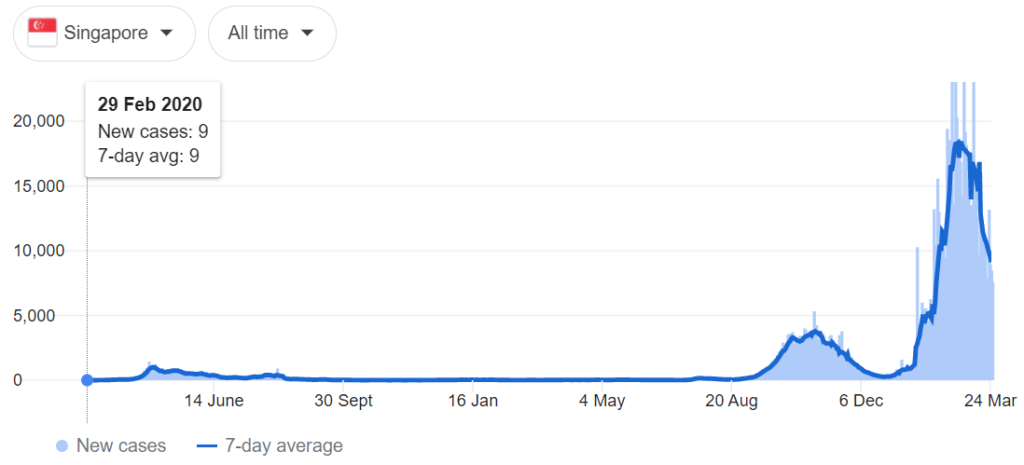 Singapore is also famous for its July retail shopping sales when you can get great discounts on great brands at designer and Singaporean shops.  The major shopping area is up and down Orchard Road, and our World's Best Cities tip is to stay at a great hotel near Orchard Road.
Singapore is certainly one of the World's Best Cities.  It's a safe city where you can instantly relax and enjoy the year-round warm weather.
Singapore is great value for money, there's plenty to see and the restaurant food is delicious.  Most importantly, the 5-star hotels in Singapore are among the world's best for luxury and value.
When is the cheapest month to stay in Singapore?
For budget-friendly lodging in Singapore, consider visiting during the low season in October or July. Numerous factors can impact Singaporean hotel prices, but staying on a Thursday would likely yield the best hotel deals in Singapore.